Self Aligning

The Locator Implant Attachment features a denture component with a skirt that easily locates the mating implant abutment.

This self-aligning ability of the attachment aids the patient in positioning their prosthesis in a similar manner as a guide plane created by a milled bar. The implant retained overdenture can be properly seated without damage to the attachment components. This is especially important for a patient lacking anatomical structures necessary to orient their denture due to a severely resorbed mandibular ridge.


Self-Aligning Lowest Profile

- Lowest Profile
- Self-Aligning
- Dual Retention
- Long Lasting
- Choice of Retention
- Easy Solution for Divergence


Clinical use has proven the ability of the Locator Implant Attachment to correct patient problems with inserting their implant retained overdenture in as little as one appointment.

Self-locating design allows a patient to easily seat their overdenture.

Incredible durability

The unique Dual Retention innovation provides the Locator Implant Attachment with more than twice the amount of retention surface area available with other attachments. A combination of inside and outside retention ensures long lasting performance.

Delsen Testing Laboratories was contracted to measure retention of the Locator Implant Attachment compared to the Stern ERA* Implant Attachment during 60,000 cycles of function. The chart below shows the number of cycles of attachment function for the retention of both attachments to fall below 0.5 pounds.

This independent laboratory test clearly demonstrates the incredible wear resistance of the Locator attachment with its patented Dual Retention design.

Lowest Height

The Locator Implant Attachment is designed to reduce the height of abutment restoration on all brands of endosseous implants.

With a total attachment height (male plus abutment) of only 3.17mm for an externally of 1.68mm to 3.05mm of inter-occlusal aspace compared to othe implant overdenture attachments.

Easy to change

The Locator Implant Attachment system fatures a Core Tool that contains three tools in one, for easy replactment of the Locator male component, and abutment insertion.

The curved Male Removal Tool portion has a hook on the end of it to catch and pull the nylon male liner out of the permanent metal housing. The middle section is the Male Seating Tool which is used to seat a replacement male into the metal cap. The third part of this handy tool is the Locator Abument Driver.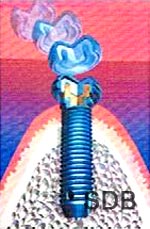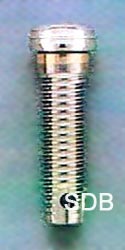 Locator Implant Attachmnt
Available to fit all major implant systems,
with abutment tissue cuff heights ranging from 0mm to 4mm.


| | |
| --- | --- |
| The Locator Abutment has an internal drive design. | A special Locator Abutment Driver fits into the abutment. |