GOLD DENTAL INLAYS AND DENTAL ONLAYS
For nearly a century, cast gold inlays and onlays have been regarded by many dentists as the best, longest-lasting method to repair teeth. Inlays fit within the biting surface of the tooth, whereas onlays cover the top of the biting surface. Many of these restorations serve for most of a patientís lifetime. However, they are difficult to accomplish, expensive, and highly demanding of the dentistís skill.
ADVANTAGES & DISADVANTAGE OF DENTAL INLAYS AND DENTAL ONLAYS


Advantages :

These restorations may be designed to add strength to weakened teeth by covering weakened portions of teeth. Gold alloys used in dentistry may be designed to wear nearly exactly the way opposing natural tooth enamel wears. This advantage is significant, because opposing teeth are not worn away rapidly. High-quality cast gold restorations have a long service potential.

Disadvantages :

Because of the necessity to make the gold inlay or onlay outside of the mouth in a laboratory, two appointments are necessary. The tooth must first be prepared (trimmed) to remove the decay or old restoration, to allow the inlay or onlay to be placed into or onto the tooth; at a second appointment the restoration is cemented into place. These restorations require significant shaping and cutting of the tooth. Therefore, gold alloy restorations are not as conservative as silver amalgam restorations. Gold alloys are gold in color and are not acceptable to most people in areas of the mouth where they are visible. Their use is generally limited to back teeth.


RISK

There are no known risks to these restorations, with the possible exception that a very few people may have slight reactions to the metals in gold alloy (e.g., gold, silver, copper, zinc, palladium, platinum).

ALTERNATIVES

In smaller restorations, silver amalgam or composite resin (plastic) are alternatives. For larger restorations, cast gold has no known equivalent except in some form of crown (cap). If a tooth-colored restoration is preferred, tooth-colored inlays and onlays provide a beautiful but less proven alternative.

COST

These restorations are expensive because of the dentistís time and effort involved, and the cost of the gold alloy. They are usually eight times more expensive than silver amalgam restorations.

RESULT OF NONTREATMENT

Untreated dental caries (decay) will eventually destroy much of the tooth, kill the dental pulp (nerve), and require significant expensive therapy to overcome the problem.

AFTER OF DENTAL INLAYS AND DENTAL ONLAYS



After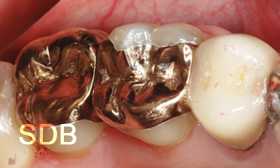 The left one is onlay and the right one is inlay
Bonding material
NX3 Nexus kerr
Maxcem Elite kerr