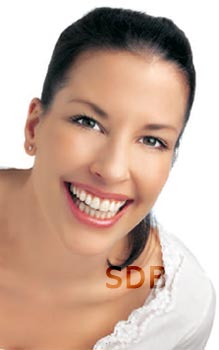 Now, with the IPS Empress all-ceramic, metal-free restorative material, you CAN have the healthy, beautiful and natural-looking smile you've always wanted!

20 years of clinical experience gives you a good feeling. You can depend on the time-tested and aesthetic IPS Empress System.

The IPS Empress ceramic is made of an extremely homogeneous leucite-based material, which scatters light like natural enamel and blends in well with its surroundings. Restorations fabricated with the material exhibit lifelike translucency and a true-to-nature appearance.
Crowns, sometimes called caps, are porcelain coverings cemented into place over the entire tooth. They are used by dentists when a tooth has had large fillings, extensive cavities or damage, or is too weak. IPS Empress Crowns can be placed on your front or back teeth and, because they are metal-free, you won't see a black or other tell-tale dark line around your gumline.


Step by Step Empress Esthetic Crown
| | | |
| --- | --- | --- |
| 1.Tooth 16 with defective amalgam filling. | 2.Preparation for IPS Empress Esthetic partial crown. | 3.Etch partial crown with IPS Ceramic Etching Gel and rinse. |
| 4.Silanize with Monobond Plus and apply Heliobond. | 5.Etch enamel with Total Etch. If desired, etch dentin too.. | 6.Apply Syntac Primer and dry with a stream of air. |
| 7.Apply Syntac Adhesive and dry. | 8.Apply Heliobond on enamel and dentin and disperse. | 9.IPS Empress Esthetic partial crown seated with Variolink II. |



Before and after restoration with

IPS Empress Esthetic