In - Office Bleaching
Bangkok, Thailand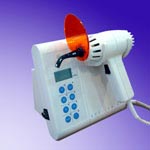 If you're in a hurry for whiter teeth, you may decide to have your teeth lightened immediately and your dentist will suggest a procedure that can be done in his or her office. This procedure is called 'chair-side bleaching'. It may require more than one office visit with each visit taking 1 to 2 hours. It is a very simple procedure and you will be able to sleep and dream about your bright smile!
During chair-side bleaching, our dentist will apply either a protective gel to your gums or a rubber shield to protect the oral soft tissues. A bleaching agent is then applied to the teeth, and a special light may be used to enhance the action of the agent.
Advantages :
One visit is usually all it takes for a bright smile.

Performed in office, no take home trays or gel to worry about

Avoids wearing uncomfortable At-home bleaching trays
Disadvantages :