snap-on smile®
A beautiful way to replace missing teeth
The Snap-On Smile lives up to its name, simply "snapping on" over the teeth and solving a variety of short-and long-term clinical challenges. It's the NO Prepping, NO injections & NO adhesive approach to many restorative and cosmetic applications. All in just two 20-minute appointment.

A Revolutionary Appliance for a Multitude of Indications
snap-on smile® is comfortable, removable dental appliance that requires no prepping, no injections, and no adhesives. It can be the ideal solution for solving a wide variety of short- and long-term clinical challenges, as it serves as both a non-invasive restorative option as well as a diagnostic appliance.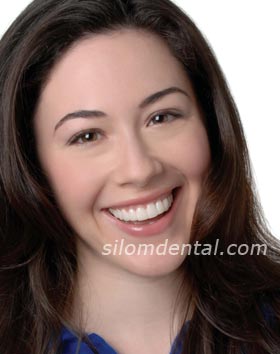 - Establishing vertical dimension before starting full-mouth reconstruction
- Use as a diagnostic tool
- Use as a provisional for implant restorations
- Cosmetic enhancement to provide a whiter smile or cover teeth
- Removable partial dentures for any edentulous area within a quadrant
- Use in conjunction with, or as a precursor to, porcelain veneers
- Use with fixed bridges/porcelain crowns
- Overcoming severely medically compromised oral health
- Use to provide the appearance of a closed diastema
- Use as a brux or sportsguard
- Overcoming severe dental phobia
- Covering existing compromised dental work
- Lifting sagging and wrinkled facial skin
No shots.

No drilling.

No adhesives.

You can even eat with it.
At your first visit the Snap-On Smile dentist will examine your teeth, decide if you are a candidate for Snap-on Smile and, if so, discuss whether you wish to have Snap-On Smile for your upper or lower arch. The dentist will then take an impression of your teeth. Donít worry... there is no pain, no shots and no drilling involved! Since each Snap-On Smile is custom made, the dentist will send your impression to the studio to have yours made just for you.

At your second visit approximately 3 weeks later, the dentist will fit your Snap-On Smile and make any minor adjustments needed. Youíll then be shown how to pop your new smile in and out, plus how to keep it looking good.

When inserting the appliance, establish the correct path of insertion. Always use both hands starting at the posteriors, applying pressure until seated completely. After few minutes of acclimating to the appliance, adjustment may be necessary.

Remember, you can eat with it, drink with it, and wear it all day every day. (Just remove it when you sleep).