Teeth ~Vs~ Bone Marrow

4000 genes were examined.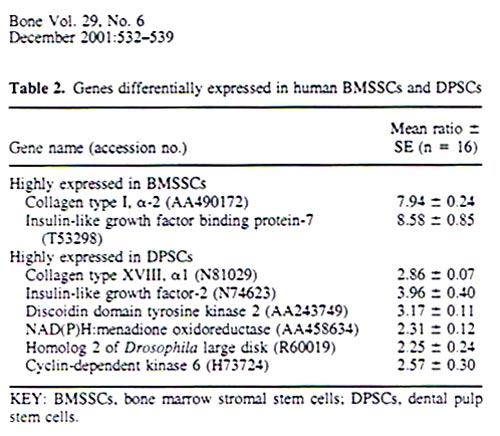 Comparison of human dental pulp and bone marrow stromal stem cells by cDNA microarray analysis Shi S, Robey PG, Gronthos S. Bone. 2001 Dec;29(6):532-9.

Second paper examined 12,814 genes.

They found very few differences in gene expression patterns. (Less than 0.4%)

Functional and clustering analyses of differences in gene expression levels revealed some cell signaling, cell communication, and cell metabolism genes to be differentially regulated.

Cluster analysis and gene expression profiles: a cDNA microarray system-based comparison between human dental pulp stem cells (hDPSCs) and human mesenchymal stem cells (hMSCs) for tissue engineering cell therapy.
Yamada Y, Fujimoto A, Ito A, Yoshimi R, Ueda M. Biomaterials. 2006 Jul;27(20):3766-81.