PREFABRICATED - DIRECT

The first step is to remove some of the gutta percha that was used to seal one or more of the root canals in the tooth. Then, using a series of graduated rasps, the inside of the canals are enlarged and shaped to receive a specially made metal or metal-free "post" that exactly fits the hole made by the last rasp. These posts are usually pre-manufactured and come in many different shapes. The post is then cemented in the hole so that it is firmly embedded in the root of the tooth, and projects up above the level of the gums in order to help retain a filling that will be placed over it.

metal VS white fiber post

core build-ups placed over the posts,
clearly reflect the aesthetic compromise
with the metallic -colored post.
Metal Post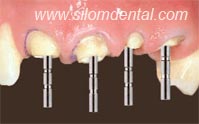 Metal-Free Post