The i-CAT™ Cone Beam 3-D Dental Imaging System provides high-definition, in-office, three-dimensional, digital imaging at reduced cost and less radiation to the patient than traditional CT scans, as well as delivers quicker and easier image acquisition. Its small footprint and economic design allow practices to extend their service offerings and enhance the overall delivery of care, while offering the safest possible diagnostic techniques.

We provide un-paralleled technology that produces better results and reduces costs. As patients increasingly ask for more sophisticated and immediate procedures, our advanced in-office imaging systems provide dentists with more accurate information for expanding general dentistry, oral and orthognathic surgery, implantology, TMJ analysis, spinal studies, airway assessment, periodontal, orthodontic, impaction and many other dental procedures.

The Leader in Cone Beam 3-D Dental Imaging Introduces the Most Complete 3-D Imaging System for Quicker and More Comprehensive Diagnostic Treatment Planning.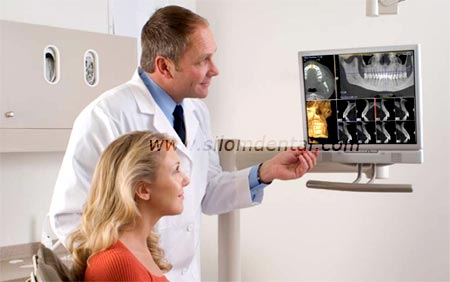 i-CAT Cone Beam 3-D Dental Imaging
Provides a full range of diagnostic services

The i-CATís 3-D, volumetric imaging system provides dentists and specialists complete views of all oral and maxillofacial structures, giving the dental professional the most thorough diagnostic information possible for a variety of treatment areas, which allows for more accurate treatment planning and more predictable treatment outcomes.


Expands in-office continuum of care

The technology and design of the i-CAT puts advanced, in-office imaging within the realm of an expanding universe of practices- those that want to place themselves at the center of patient care by providing a full continuum of services, from diagnosis to treatment.


Saves chair-time with less radiation to patients

With a typical scan time of only 20 seconds or less, the patient is subject to significantly less radiation than traditional CT scans of the oral and maxillofacial region.


Surgical Predictability for Implantology & Oral Surgery

Achieve the most accurate planning and successful treatment for patients
The i-CAT®ís high resolution, volumetric images provide complete three-dimensional views of critical anatomy for more thorough analysis of bone structure and tooth orientation to optimize implant treatment and placement, and selection of the most suitable implant type, size, location, and angulations prior to surgery.

More accurate three-dimensional views of impacted molars
Determine precise tooth position to visualize impaction within the alveolar bone, location relative to adjacent teeth, and proximity to vital structures, such as the nerve canal, sinus walls, and cortical borders.

Detect and evaluate problems before they become serious
Accurately measure bone and jaw deformities, assess bone lesions and changes of the jaw, and detect other pathologies, such as cysts, tumors, and disease.


Improving Orthodontic Diagnosis and Treatment

Improve diagnosis and treatment planning by providing the multiple projection perspective necessary to accurately assess tooth relationships and relative anatomy.

Understand exact tooth position and relationship of abnormal anatomy
More accurate 3-D views of impacted supernumerary or abnormal teeth in relationship to other anatomical structures, such as roots, nasal fossa, and sinuses to enhance accurate management of the treatment by understanding the toothís position and its relationship to adjacent teeth and structures.

More accurate information can result in less invasive surgery if extracting the tooth and better designs to align the tooth if moving it.


3-D Views of Critical Structures for Complete TMJ Analysis

The i-CATís ability to provide three-dimensional images of the condyles and surrounding structures allows for complete analysis and diagnosis of bone morphology, joint space, and function Ė all critical to TMJ dysfunction treatment and care. High-speed scan captures TMJ jaw views quickly and accurately.

Detect restricted airways and determine appropriate treatments
Three-dimensional data enhances airway assessment and can result in reconsideration of the treatment plan if the patient has a typical airway, versus a restricted airway, which may be susceptible to collapse.