miniPiezon : scaling in a new dimension

The miniPiezon® is one of the most compact ultrasonic units but it has the same powerful heart as in its bigger EMS brothers. The unit saves space and money but does not compromise in terms of quality or efficiency: the user of the miniPiezon® fully benefits from the precision and power of the original Piezon® technology.

RELATED TREATMENTS

Goodbye to tartar...guaranteed by the miniPiezon:
quick, quiet, precise and powerful
gentle, painless and comfortable
tips, with that well known Swiss precision
Swiss engineered tips create the perfect spray pattern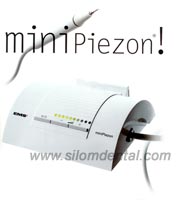 before and after miniPiezon



Satelec P5 Newtron

Satelec® presents its latest piezoelectric ultrasonic generator: Suprasson® P5 Newtron.

The Newtron technology enables real-time adjustment of the tips' single plane oscillation amplitude (Cruise ControlTM) which means a smooth, constant and powerful vibration during treatment Guided by the Color Coding System to select the required setting, the power is automatically controlled and adjusted accordingly. Then with just one Newtron handpiece for any ultrasonic tips), you immediately optimize the settings that guarantee the best performance and prevent operator fatigue.

Smooth and virtually painless vibrations provide your patients with unbeatable comfort during all treatments in endodontics.

Although it uses highly sophisticated technology, P5 Newtron is an easy-to-install, compact and reliable table-top device.

The tank can be filled with the scaling or endodontic irrigant of your choice, for example water, chlorhexidine or even sodium hypochlorite. Handpiece compatible with the whole range of SATELEC tips.

Satelec IRRISAFE : This tip is designed for the safe removal of the smear layer, dentine debris and bacteria from the root canals. Irrisafe is a small parallel shaped and non-cutting (blunt ended) and can therefore be used in a shaped canal without the risk of damaging or reshaping the prepared canal shape.

EMS Endo Soft Instrument: EMS ESI tips are non-cutting soft, flexible tips used to activate and agitate endodntic irigants, particularly Sodium Hypochlorite. This will create cavitation and acoustic streaming within the irrigant to break up bacterial biofilm and destroy bacteria. Pack of 6 instruments endo file.

Salelec ET20: ET 20 mini-tip For treatments in the coronal third of the root canal: extraction of filling materials, silver cones, broken instruments; flushing away debris from dentinal work.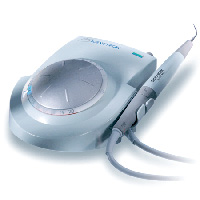 Satelec P5 Newtron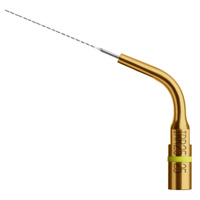 Satelec IRRISAFE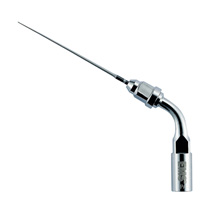 EMS Endo Soft Instrument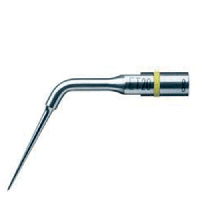 Salelec ET20