NobelProcera Bridge Alumina Indications :
Indicated for use in the esthetic region, premolar to premolar.
Two-to four-unit bridges
Requires a minimum cross-sectional area of 6.0 mm2
Tooth-and implant-supported restorations
NobelProcera Bridge Alumina Contraindications :
No cantilevers and a maximum of one pontic between supporting teeth/abutments
Bruxism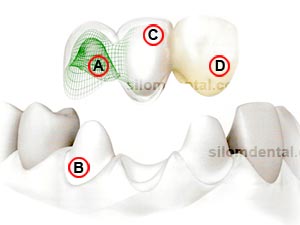 A. Indivadual design Individual virtual framwork design for better esthetics.
B. Easy to integrate into a practice Tooth preparation and cementation routines are similar to conventional crown and bridge techniques.
C. Homogeneous and biocompatible materials Zirconia (four colors) and Alumina (white and translucent).
D. Broad clinical applications Single crowns and bridges.