NebelProcera Bridge Zirconia Indications :
Indicated for all positions in the mouth
A bridge, designed to fit into a disc, 60 mm in diameter and 20 mm in height
The connector dimension of a multi-unit framework depends on the distance between the supporting teeth
Tooth-and implant-supported restorations
NobelProcera Bridge Zirconia Contraindications :
Cases where the anterior/posterior cantilevers have a length of more than one unit
Bruxism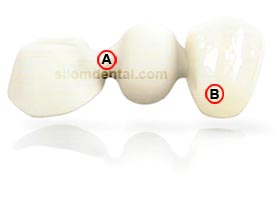 A. Excellent flexural strength All colors of zirconia demonstrate exceptional flexural strength and show no degradation in strength compared to white zirconia.
B. Excellent esthetic results Supported by the coloring of the underlying framework.