NobelGuide™ is the complete solution for diagnostics, prosthetic driven planning, guided surgery and restoration of dental implants. Small units, partial to fully edentulous total jaw reconstructions, can be planned and treated.

NobelGuide™ is a revolutionary treatment planning and surgical implementation system, enabling you to transfer extraoral planning into the mouth with unrivalled accuracy and ease.

NobelGuide™ is a Nobel Biocare unique treatment concept allowing your dentist to offer patients exactly what they want: A fast, gentle treatment resulting in Beautiful Teeth Now™.

By planning your treatment and transforming this into a Surgical Template you enable an easy, predictable, fast and minimal invasive installation. And by reducing chair time and patients visit.

NobelGuide™ concept is applicable on any patient indication from single tooth to partially or fully edentulous. Covering the simplest of procedures to our ultimate Teeth-in-an-Hour™ offering. It's predictable flapless surgery combined with Immediate Function™ and know position of implants prior to surgery. Providing the prerequisites for delivery of Beautiful Teeth Now™.


"So far we are the first and only dental clinic in Thailand having authentic 3D Procera planing software for NobelGuide surgical stent."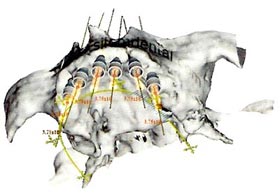 NobelGuide™
perfect planning for perfect teeth
Maximun comfort: NobelGuide™ uses minimally invasive flapless surgery. This considerably reduces pain and swelling compared to conventional treatment. With patients needing fewer return visits for try-ins and adjustments, it also reduces both appointments and chair time, which means fewer interruptions to daily life.


Suitable for all indications : Nobel Biocare implants can be planned and placed for all indications – from single units to edentulous cases.


Planning starts with a prosthetic conception : Planning begins from a prosthetic requirement perspective. This meets today's needs for modern treatment practices and innovative materials.


Fast Treatment with high-end esthetics The combination of Immediate Function™ with temporary or final prosthesis ( Teeth-in-an-Hour™) ready at surgery radically shortens treatment time. For the prosthesis we provide the complete prosthetics range enabling you to offer beautiful teeth now.


Easy, safe and predictable : A clear understanding of the anatomical and prosthetic characteristics of the case is gained through thorough diagnostics, and as a result the surgical intervention can be well prepared and documented. The success of the future prosthetic reconstruction is ensured.


Immediate cost saving : Built on Immediate Function™, reducing costly time off from working life
The patient can immediately return to work and social life after the treatment since the concept is built on Immediate Function™. For many patients this means a considerable cost-saving.


Increased efficiency through interdisciplinary team approach : NobelGuide provides cross-functional treatment teams with powerful tools to share planning information and to facilitate collaboration. It also offers a single source for system support and component ordering.


Long and short term esthetics : Complete range of prosthetic possibilities based on NOBELESTHETICS™.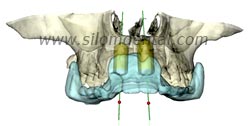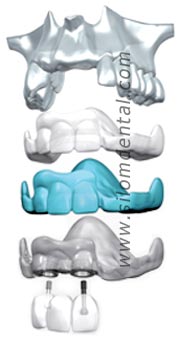 1. Radiographic guide : Represents the final tooth setup, and is the basis for the prosthetic driven planning.

2. Surgical template : The surgical template is produced based on a radiographic guide and planning.

3. Guide sleeve : Mounted in the surgical template, guide sleeves provide safe guidance for drills and implant mount during implant placement.

4. Anchor pin : The ready-to-use surgical template provides safe guidance for drilling and implant insertion.

5. Prosthetics : The result of the prosthetic implant benefits from sound planning based on biological, functional, biomechanical and esthetic aspects.