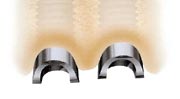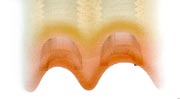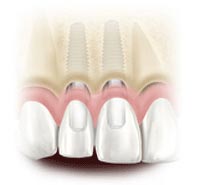 The problematic triangle

It is a well-known fact that over time, interproximal bone often resorbs between flat-top implants as a result of the establishment of the biologic width. It is also known that the distance between the most apical inter-dental contact area and the top of the underlying bone should not exceed 5 mm in order to avoid "black triangles" between teeth.

NobelPerfect follows natural anatomy, so for the first time, the bone can be preserved and thereby provide adequate soft tissue support.

Perfect overall harmony

NobelPerfect replicates natural anatomy with anatomic design and all patients exhibiting a three-dimensional osseous topography will benefit from this design.

NobelPerfect can be used in all positions with scalloped bone anatomy but the primary advantage is in the premolar-to-premolar region for single or multiple units. In a single tooth replacement, interproximal soft tissue normally is supported by the interproximal bone adjacent to the natural tooth. Even here, a NobelPerfect implant should be placed in case the patient looses an adjacent tooth in the future.

The scalloped implant means no black triangle - here's the Perfect overall harmony of soft and hard tissue.