NobelGuide™ provides diagnostics, planning and implementation for all indications. Combined information about the desired prosthetics (represented by the radiographic guide) and 3D radiographic data gives dental professionals all the information they need to choose the optimal implant position. Biomechanical, functional and esthetic demands, as well as the quantity and quality of bone at the selected site, are fully integrated into the decision making process.

NobelGuide™ is a total system concept. This will provide the clinicians, both surgical and restorative specialists, to work through an immediate loading treatment together, from downloading and converting the CT data to fabrication of the surgical guide to fabrication of the permanent restoration to delivery of restoration to your patient for immediate function. The well-fitting components and accuracy afforded the surgeon through the CT data permits an effortless surgery that minimizes the time and trauma for the patient. The new technology and concept permits minimally invasive surgery using a flapless approach and may be used with any clinical situation, from the completely edentulous arch to partially dentated arch to the single missing tooth.
NobelGuide™ easy, predictable, fast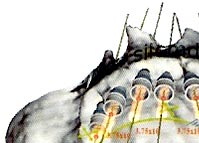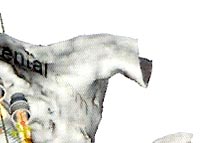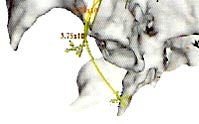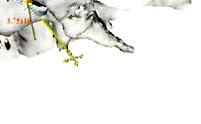 Diagnostic tooth setup
A diagnostic tooth setup is produced, clinically validated and transformed into a radiographic guide as prosthetic reference.

Digitization


a double-scan protocol of the patient and the radiographic guide is made using (CB) CT scanners. The scans are fused by the NobelGuide software.

Prosthetic-diven treatment planning
By combining the tooth setup and the patient's anatomy, implant locations and defined according to clinical, anatomical and prosthetic needs.

Guided implant site preparation
After planning, a customized, ready-to-use surgical template is automatically designed and centrally produced by Nobel Biocare.

Guided implant insertion
The surgical template enables safe and predictable minimally invasive surgery for all indications.

Provisional restoration
Using the surgical template, the dental technician is able to pre-fabricate a stone model with implant replicas in place. Based on this model, provisionals can be prepared prior to surgery.

Impression-based final restoration
The NobelGuide workflow ensures that implants are placed in accordance with prosthetic needs.