NobelGuide™ offers dental professionals full flexibility in surgical access, loading timing, and prosthetic solutions.

Clinical procedures to use NobelGuide with mini- and full-flap surgical access are also available. These procedures allow for advanced soft tissue management.

NobelGuide™also offers a technique to combine extractions and guided implant surgery on the same day. This procedure significantly reduces patientsí discomfort, and it allows them to retain their untreatable teeth until the day of implant surgery.
NobelGuide™ easy, predictable, fast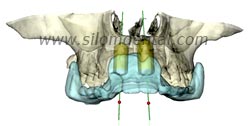 diagnostics and scanning
The basis for successful treatment is a thorough clinical, intra-oral and functional examination.

production of radiographic guide
Based on an impression and bite registration, the tooth setup is established, evaluated and transformed into a radiographic guide with markers. This enables a perfect match during the double-scan procedure.

scanning with computed tomography
Based on the radiographic guide and the double scan technique, implants can be planned in accordance with clinical, anatomical and prosthetic aspects.

guided surgery
Based on planning, NobelGuide™ offers you the possibility to order a surgical template that contains all planning information and will fully guide the surgery.

pre-fabricated prosthetic solution
With the help of the surgical template, prosthetic restorations can be created prior to the surgery.